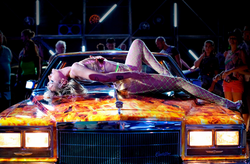 Celluloid Screams
Thu 21 Oct - Sun 24 Oct
Each year, the festival showcases a diverse lineup of films, from the hottest new horror features and genre discoveries to terrifying short films from the fearmakers of the future.
Black History Month
Mon 25 Oct - Wed 3 Nov
This Black history month, we're spotlighting a small collection of films from Black filmmakers that paved the way for generations that followed. These directors played with the conventions of genre pushed through the boundaries of their respective eras to produce bold, urgent, visionary work and inspire the filmmakers of the future.
Doc'n Roll
Fri 4 Nov - Sat 6 Nov
Doc'n Roll is the UK's Music Documentary Film Festival. The festival is a celebration of music subcultures, providing a unique platform to support the wealth of creative, compelling and unforgettable documentaries that celebrate the performers, labels, scenes and stories.
UK Green Film Festival 2021
Tue 9 Nov - Thu 11 Nov
Taking place each year, the festival screens some of the very best films from around the world, exploring some of the big environmental issues of the day. This year, UK Green Film Festival's programme highlights feature documentaries from around the globe.
Sheffield Loves Anime!
Fri 19 Nov - Sun 21 Nov
In partnership with Anime LTD - the masterminds behind Scotland Loves Anime - we're delighted to present our first Anime Festival: Sheffield Loves Anime. Taking place over one weekend, our festival will have a packed film programme, brimming with cult and contemporary anime.