What's On July 2019
Showing as part of Stage on Screen
The story of a family and a company that changed the world, told in three parts on a single evening.
2 upcoming showings between Thu 25 July & Sun 11 August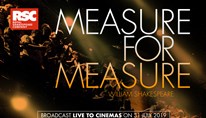 Showing as part of Stage on Screen
When a young novice nun is compromised by a corrupt official, who offers to save her brother from execution in return for sex, she has no idea where to turn for help. When she threatens to expose him, he tells her that no one would believe her.
1 upcoming showing - Wed 31 Jul 19.00