What's On
Close
More films and times are added each Monday for the following Friday to Thursday
More films and times are added each Monday for the following Friday to Thursday
More films and times are added each Monday for the following Friday to Thursday
What's On December 2019
More films and times are added each Monday for the following Friday to Thursday - please check back then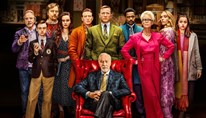 Showing as part of Kino Bambino! For parent/guardians + babies under 1 only
A fun, modern-day murder mystery paying tribute to mystery mastermind Agatha Christie, from acclaimed writer-director Ryan Johnson (Brick, Looper, Star Wars: The Last Jedi).
1 upcoming showing - Mon 9 Dec 11.00
Showing as part of Kino Bambino! For parent/guardians + babies under 1 only
Oscar®-winning director Tom Hooper (The King's Speech, Les Misérables) transforms Andrew Lloyd Webber's record-shattering stage musical into a spectacular film that will captivate the imagination.
1 upcoming showing - Mon 30 Dec 11.00