What's On April 2019
Showing as part of Last Chance
From the imagination of Tim Burton comes a spectacular and enthralling new live action epic: the story of Dumbo the flying elephant continues!
2 showings on Wed 24 Apr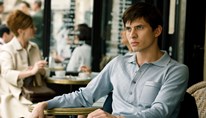 Showing as part of Last Chance
Director Ralph Fiennes captures the raw physicality and brilliance of Rudolf Nureyev, who revolutionised ballet after escaping to the West in the height of the Cold War.
1 upcoming showing - Thu 25 Apr 11.15
Showing as part of Last Chance
Paolo Sorrentino's latest is an ambitious, no-holds-barred satire of the life and misfortunes of the corrupt, scandal-ridden Italian Prime Minister Silvio Berlusconi.
2 showings on Tue 23 Apr