What's On January 2020
More films and times are added each Monday for the following Friday to Thursday - please check back then
Showing as part of Early Doors
At the height of the First World War, two young British soldiers, Schofield and Blake, are given a seemingly impossible mission. They must cross enemy territory and deliver a message that will stop a deadly attack on hundreds of soldiers.
1 upcoming showing - Thu 23 Jan 11.00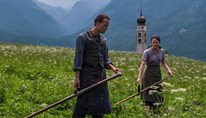 Showing as part of Early Doors
Austrian farmer Franz Jägerstätter faces the threat of execution for refusing to fight for the Nazis during World War II.
1 upcoming showing - Thu 30 Jan 11.00