New releases to enjoy at home
We're delighted to team up with various film distributors to bring you an exciting selection of titles for you to enjoy from the comfort of your home. You can support your favourite indie cinema by watching any of these films. Just choose Showroom Cinema when renting a film and we will benefit from 50% of the revenue.
WOMEN OVER FIFTY FILM FESTIVAL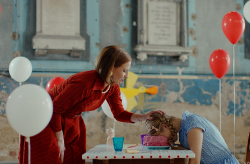 Women Over Fifty Film Festival (WOFFF) showcases international films by and about older women. Now in its 7th year, WOFFF creates a film community centred around older women and inspires younger people to re-think ageing and see creative potential in an often-invisible demographic. Our virtual Best of the Fest is packed with award-winning films of witches, warriors and women who roar!
HOMEWARD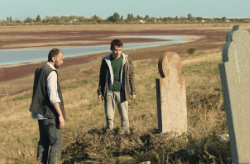 Mustafa (Akhtem Seitablayev) and his college-aged son, Alim (Remzi Bilyalov) have set out to a morgue in Kyiv to recover the body of Alim's older brother, Nazim, yet another casualty of the war with Russia.
Mustafa is a hot-tempered and severe. There is also tension between father and son as city-life has exacerbated the generational gap between Mustafa and Alim. Along the way, they face many obstacles, not least of which is a decomposing cadaver, and Alim is hard-pressed to accept his father's determination to uphold tradition at all costs. Will this journey bring them together? Or is the divide too great?
HENRY GLASSIE: FIELD WORK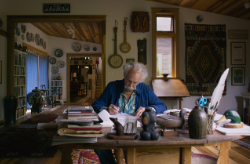 Henry Glassie: Field Work is a magisterial portrait of the most renowned American folklorist and ethnologist, Henry Glassie, now in his seventies. With a view of Glassie's life's work, the film displays the director's trademark eye for details of the deepest significance, and celebrates the people with whom he stands and their work. Glassie's subject is folklore but his abiding love for the people who create it resonates throughout the film.
A COMMON CRIME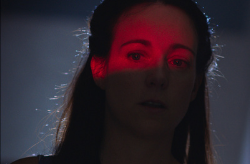 One night in the pouring rain, Kevin, the adolescent son of Cecilia's housekeeper, knocks on her door. A sociology lecturer and financially secure, Cecilia lives alone with her young child. She is too afraid to let Kevin in. The next day, his body is found in a river.One night in the pouring rain, Kevin, the adolescent son of Cecilia's housekeeper, knocks on her door. A sociology lecturer and financially secure, Cecilia lives alone with her young child. She is too afraid to let Kevin in. The next day, his body is found in a river.
The neighbourhood accuses the police of having hounded the teenager and social unrest rocks this impoverished part of town. Cecilia's concept of reality is also increasingly shaken, her moods start to fluctuate and she begins hearing and seeing things. Is she losing her mind?
CHINESE CINEMA SEASON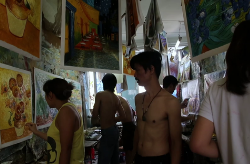 Produced by Trinity CineAsia, Filming East Festival, and UK-China Film Collab, the Chinese Cinema Season is an online film screening event lasting for three months (12 Feb to 12 May 2021). It is the first and biggest online screening specialising in Chinese language films in the UK and Ireland.
Showcasing more than 50 films, Chinese Cinema Season offers fast and unprecedented access to the best Chinese cinema, as well as enriching the diversity of films available on VOD.
ROSE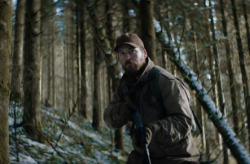 Gripped by a violent, terrifying illness, Rose lives in seclusion with her husband, but the arrival of a stranger shatters the fragile refuge they have built. Rose is a chilling, deeply moving and critically-acclaimed horror-thriller starring Sophie Rundle (Peaky Blinders, Jamestown, Bodyguard) and Matt Stokoe (Cursed, Jamestown, Misfits).
MINARI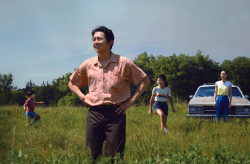 A tender and sweeping story about what roots us, Minari follows a Korean-American family that moves to a tiny Arkansas farm in search of their own American Dream. The family home changes completely with the arrival of their sly, foul-mouthed, but incredibly loving grandmother. Amidst the instability and challenges of this new life in the rugged Ozarks, Minari shows the undeniable resilience of family and what really makes a home.

STRAY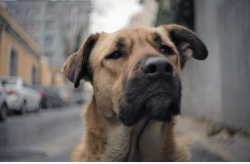 Following three stray dogs as they embark on inconspicuous journeys through Turkish society, Stray explores what it means to live as a being without status or security. This love letter to canines tells the story of fiercely independent Zeytin, nurturing and protective Nazar and shy puppy Kartal. Their disparate lives intersect when they each form intimate bonds with a group of young Syrians who they share the streets with. Director Elizabeth Lo's award-winning film is a critical observation of human civilization through the unfamiliar gaze of dogs and a sensory voyage into new ways of seeing.
MALMKROG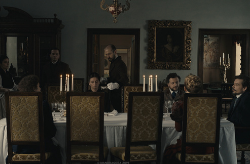 Winner of the Best Director award of the Encounters section at the 2020 Berlin Film Festival, this period drama delves into the debate of good vs. evil and the fragility of unity. Set in the 1900s, hand-picked guests come to the mansion of aristocratic landowner and among them is a politician, a young countess and a general with his wife. They dine, indulge in parlour games and discuss death, war, progress and morality. But as the debate becomes more heated, cultural differences become increasingly apparent and the mood intensifies.
MOUTHPIECE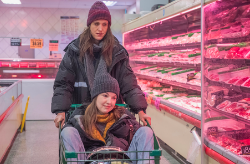 ★★★★ - Guardian
From award-winning writer, producer and director Patricia Rozema, comes her latest feature Mouthpiece. In this dark comedy-drama, two actresses bring one lead character to life in this film adaption of the stage play of the same name. The film tells the story of a single writer who lives by her own rules and finds herself in crisis following the sudden death of her mother.
VERDICT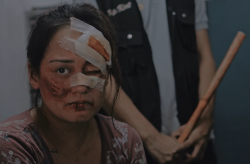 The multi award-winning and remarkably intense Filipino drama, Verdict, is about abused and battered wife Joy, her six-year-old daughter Angel and her husband Dante, a small-time criminal. As he often does, Dante comes home drunk at night and beats Joy brutally, and this time, he also hurts Angel. Fleeing with her daughter to the local police post to finally send him to jail, Joy learns justice takes time at best and is impossible to get at worst. Not without reason, she feels that she and her daughter are increasingly under threat.
KILLING ESCOBAR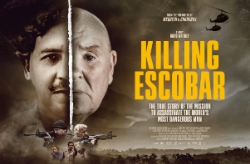 In 1989, Scottish mercenary and ex-SAS operative Peter McAleese was hired by a Colombian drug cartel to lead a small team of ex-special forces commandos to assassinate the world's biggest drug baron, Pablo Escobar.
With never-before-seen footage of the mission and first-person accounts from both the mercenaries and the cartel, Killing Escobar is a documentary thriller that reveals how one man's violent upbringing in Glasgow and acute military training led him to the heart of the Medellín cocaine empire.
POLY STYRENE: I AM A CLICHÉ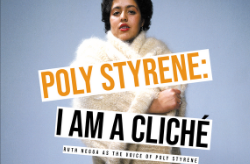 ★★★★ - Eye For Film
Poly Styrene was the first woman of colour in the UK to front a successful rock band. Featuring unseen archive material and rare diary entries narrated by Oscar-nominee Ruth Negga, this documentary follows Celeste as she examines her mother's unopened artistic archive and traverses three continents to better understand Poly the icon and Poly the mother.
IORRAM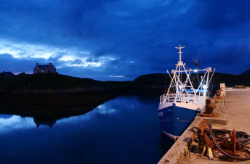 "An immersive and poetic portrait of life in the Outer Hebrides, as the islands and the language face an uncertain future." - Adam Dawtrey, Producer
The first cinema documentary entirely in Scottish Gaelic, Iorram (Boat Song) is a lyrical portrait of the fishing community in Scotland's Outer Hebrides. Director Alastair Cole takes a cinematic journey into the past and present of the islands, mixing voices, stories and songs from the mid-20th century with images of life today on land and sea, and original music by Aidan O'Rourke.
EYE OF THE STORM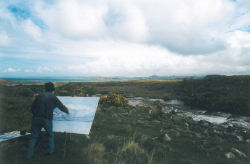 Widely recognised as one of Britain's finest landscape artists, James Morrison's work hangs in museums and private collections around the world. But in the twilight of his life, James loses his eyesight and with that, his ability to see the landscape as others couldn't. As Morrison reflects on his remarkable artistic journey, from the Glasgow shipyards, to France and the vanishing arctic wilderness, he also confronts his sight loss by attempting one final masterpiece. Take a look at the Immersive Virtual Exhibition of James Morrison's work. (Both film and virtual exhibition are available in audio description and captioned formats.)
FEMINISTA FILM FESTIVAL 2021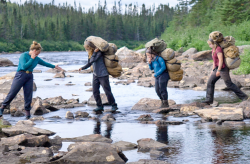 "... A joy to watch… It was insightful seeing all these women live out their dreams by battling odds and overcoming difficulties." - The Girls' Network
An exciting selection of films specially curated for the 2021 Feminista Film Festival and Tour. Focussing on adventure challenges and the great outdoors, the women featured in the films are true change-makers and trailblazers.
SONG WITHOUT A NAME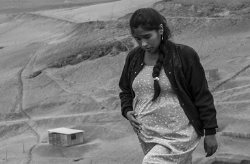 ★★★★ - Guardian
From Peruvian filmmaker, Melina Léon, comes her agonising feature debut based on a true story and set in Peru during the peak of the political crisis of the 1980s. Stunningly shot in black and white, it follows the story of Georgina whose newborn daughter is stolen at a fake health clinic. Her desperate search for her baby leads her to the headquarters of a major newspaper, where she meets a lonely journalist who takes on the investigation.
RAMS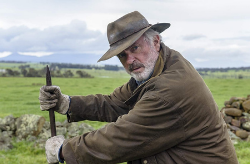 ★★★★ - Guardian
In remote Western Australia, two estranged brothers, Colin and Les, are at war. Raising separate flocks of sheep descended from their family's prized bloodline, the two men work side by side yet are worlds apart. Can the warring brothers set aside their differences and have a chance to reunite their family, save their herd, and bring their community back together?
WILLY'S WONDERLAND (15)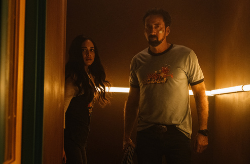 ★★★★ - Total Film / "A pure shot of Cage madness" - Empire
Stranded in a remote town with a car that won't work and no way to pay the local repair shop, The Janitor (Nicolas Cage) agrees to spend the night in an abandoned theme park full of animatronic characters that were once a joy to the kids of the town, but now hold a dark secret.
COME AWAY (PG)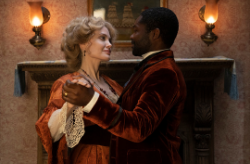 Written by Kate Goodhill and directed by Brenda Chapman, the Oscar™-winning director and co-writer of Pixar's Brave, Come Away tells the story of siblings Peter and Alice who transform into Peter Pan and Alice in Wonderland in a bid to help their parents overcome the tragedy of losing their eldest son. A whimsical and inspiring British made live-action fairy-tale adventure film for all the family to enjoy.
SYNCHRONIC (15)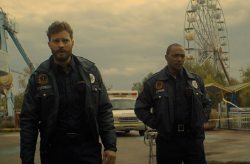 ★★★★ - Empire
After New Orleans paramedics Steve and Dennis are called to a series of bizarre and gruesome accidents on their night-shift, they put it down to a mysterious new drug found at the scene, Synchronic. Steve stumbles upon a terrifying truth about the supposed psychedelic that will challenge everything he knows about reality -- and the flow of time itself.
ASSASSINS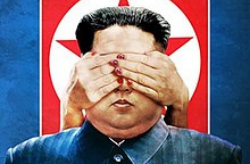 "A chilling warning about democratic vigilance" - Empire
True crime meets global spy thriller in this gripping account of the assassination of Kim Jong-nam, the half brother of the North Korean leader. The film follows the trial of the two female assassins, probing the question: were the women trained killers or innocent pawns of North Korea?
AWAY (U)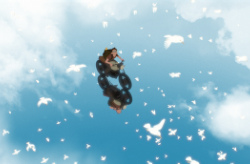 ★★★★ "Dreamy, sublime... a breath-taker" - The Guardian
A boy travels across an island on a motorcycle in escape of a dark spirit to get back home, while making connections with different animals along the way. Part dream, part reality, Away explores our common, universal need to find a connection.
Director and animator Gints Zilbalodis' film was almost four years in the making and won the prestigious Contrechamp Award at the Annecy International Animation Film Festival 2019.
MLK/FBI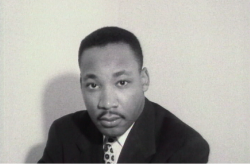 "Eye-opening and jaw-dropping..." - Rolling Stone
MLK/FBI uncovers the extent of the FBI's surveillance and harassment of Dr. Martin Luther King, Jr. Based on newly discovered and declassified files, utilising a trove of documents obtained through the Freedom of Information Act and unsealed by the National Archives, as well as restored footage, the documentary explores the US government's history of targeting Black activists.
THE IMPERIALISTS ARE STILL ALIVE!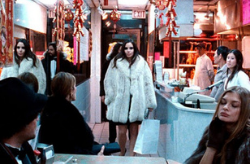 Blending dry comedy with alluring political drama, British-American director Zeina Durra brilliantly portrays the everyday paranoia of post-9/11 America. This is the story of successful visual artist Asya as she follows the politics of her Middle East homeland on TV while enjoying a chic Manhattan lifestyle of parties, supermodels and limos. But when a childhood friend disappears, Asya suspects a CIA abduction and – to her new boyfriend's bemusement – sets out to crack the conspiracy.