Ground-Breaking Moments in Lesbian Cinema: Behind the Programme
This LGBTQ+ history month, we've decided to celebrate some of the best bits in Lesbian Cinema, with Lesbians on screen, and women behind the camera (this is a male-gaze free zone!). We will, at other points in the year, do our best to offer up films that focus on the G,B,T,Q and the +, we're in the business of creating space in the cinema for everyone, but we also recognise the importance of really focussing in on areas of film history that aren't always celebrated, and giving people a chance to dig deeper into some of those cinematic spaces.
We've programmed this season around the release of a film that's dazzled the whole programming team. We want that film to find big, enthusiastic audiences, and as it's been snubbed pretty heavily in awards season, we want people to appreciate where it sits in film history and some of the reasons why we think it's so special. The film, Portrait of a Lady on Fire, is a gorgeous, sumptuous, possibly-the-most-romantic-thing-you'll-ever-set-eyes-upon, French period drama. It's a love story that doesn't spend a lot of time bothering with the forbidden-ness of that love but does spend plenty of time luxuriating in the joy of women spending time in the company of other women. Not a man in sight.
It's directed by Celine Sciamma, who is something of an arthouse legend-in-the-making. Her first feature, Water Lilies, is perhaps the most thematically similar to Portrait of a Lady on Fire (though there are also a lot of differences). We actually intended to kick off this season with a screening of Water Lilies, unfortunately, as is often the case with this kind of programming, we could not get hold of the rights to screen as they are very expensive and being held by a French Sales agent. Sciamma is perhaps best known for her later works, Girlhood, Tomboy and My Life as a Courgette; all incredible, but each distinctly different. I suspect if you pull the Showroom programming team aside one by one, each of us would choose a different one as our favourite (mine's Girlhood, I think.).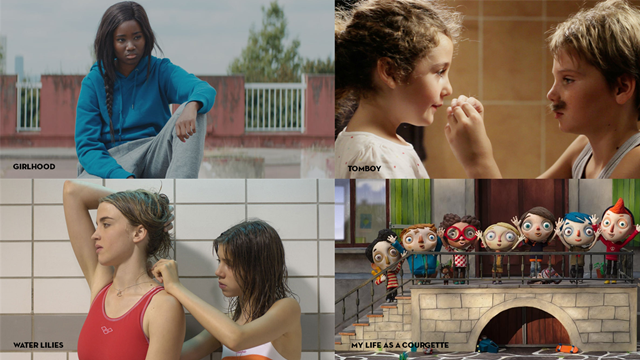 In the absence of Water Lilies, we decided to kick the season off with the documentary Dykes, Camera, Action!. Immediately frustrated with the fact that couldn't lock down screening rights for some of the films we wanted to show, we thought we'd show something that could highlight some of the lesbian cinema heavyweights that we can't share the work of.
To screen before the doc (which runs at just over 60 mins), we've booked one of Cheryl Dunye's early short films The Potluck and the Passion. Dunye's The Watermelon Woman is undeniably ground-breaking, and its representation of Black Lesbian life is still pretty much unmatched. It is available to screen in the UK, but we screened it in 2017, and we're always trying to keep it fresh and break new ground, so we felt like it was too soon to screen it again. Nonetheless, we couldn't make this season without a bit of Dunye. We're also keen to start delving into more short films and early work - filmmakers that represent almost any minority often end up making lots of stellar shorts before (or even if) they get their first feature paycheque, and much of that stuff goes unseen and unexplored.
Speaking of filmmakers cutting their teeth making outstanding short-form work, Doc/Fest superstar and long-time Showroom Cinema friend Melanie Iredale has done a knock-out job of curating some Barbara Hammer short films for your enjoyment. Hammer is a truly iconic figure in lesbian filmmaking, documentary and in-the-know art circles. Her filmmaking is bold, distinct and unquestionably feminist, but it's very rare you get to catch it on the big screen (we found that rights are with an agency in New York, and we had to get permission from the Hammer estate before anything could be screened – thanks for your hard work Melanie!). So we're extremely excited to have the privilege to share it with new audiences, here in Sheffield.
Hammer's work is distinctly different from Sciamma's, the two might as well exist in different universes (surprisingly, it seems that women do not only make one type of movie - who would have thought!). Hammer's is experimental, explorative stuff, it's got a rebellious soul and shows WOMEN, in all capital letters, guts, glory and all. There's an emphasis on the 'all' part, this stuff is quite explicit and there will be naked bodies. Hammer's work has been exhibited widely, including a retrospective at the Tate Modern, London. People seem to feel comfortable with nudity in a gallery/art space but rarely in a cinema, which means that this moving image work is rarely seen on the big screen. We say, give it a shot! Do away with your inhibitions, it's what Hammer would have wanted.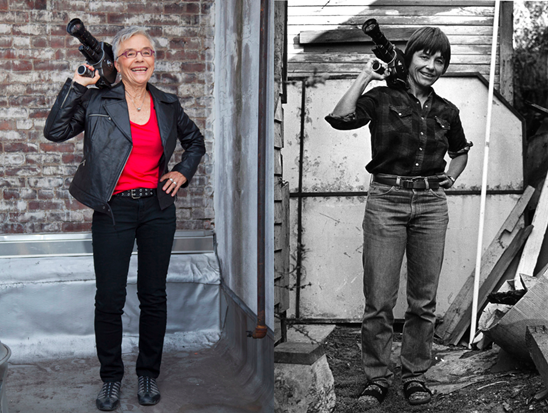 Right on the other end of the spectrum, we've got Desert Hearts. Sweet Desert Hearts. This is the most Hollywood of our choices, ground-breaking in the sense that it's really not that ground-breaking at all. It's a solid 80s romance - think about Dirty Dancing, When Harry Met Sally and all those other classic 80s romances that have their place in populist film history, and then ask yourself why this one hasn't gotten so much recognition. We thought it was important to include this film because we wanted to include something that was really broadly accessible, not particularly arthouse or experimental. Everyone deserves to see a good old-fashioned, bucket-of-popcorn, put-your-feet-up romance that represents them, and this one is special because it's just that. It's also shot in the desert and is visually stunning, so wrap yourself into this deliciously cosy cinematic blanket - I promise you'll love it.
So that's it. Four films, that don't actually have that much in common. They're just all made by women and they all feature lesbians. Most of them do address themes of sensuality, but the expressions of sensuality, and what is deemed sensual by each of the women behind these movies is obviously drastically different. Come and see the film that most tickles your own fancy, or better yet, come on the journey and explore the great diversity of women that make movies - you might make some pretty exciting discoveries.