LGBTQ+ History Month – Films to look out for in 2020!
Our LGBTQ+ History Month season will be over in less than a month. Fear not though, this is obviously not the end of queer cinema as we know it. We've had a look through the slate of films being distributed in the UK this year and highlighted some gems that you can look out for below. This is not a definitive list, just the titles that already have UK release dates. We'd hope that some of our favourite distributors have a few more films up their sleeves that they haven't assigned a release date to yet. I'd imagine some new treasures will also be picked up at upcoming festivals – Berlinale starts later this week and Cannes follows in May. So many of our favourite LGBTQ+ films from the last couple of years (Portrait of a Lady on Fire included) were picked up at these festivals.
Portrait of a Lady on Fire – 28 February 2020
A vivid portrait of the stolen romantic relationship between two young women played by Noémie Merlant and Adèle Haenel. Set in Brittany in 1760, Marianne, a painter, is commissioned to do the wedding portrait of Héloïse, a young woman who has just left the convent. Héloïse is a reluctant bride-to-be and Marianne must paint her without her knowledge. She observes her by day and secretly paints her at night. Intimacy and attraction grow between the two women as they share Héloïse's first and last moments of freedom, all whilst Marianne paints the portrait that will end it all.
And Then We Danced – 13 March 2020
Fiercely passionate about dance, Merab has trained since childhood. His sole aim in life: to join the Main Dance Ensemble and travel the world. But when a new dancer joins the class, Merab experiences not just competition, but the stirrings of something more... Swedish-born filmmaker Levan Akin's gorgeous drama explores the possibilities of love, cultural identity and sexuality within a repressively anti-LGBTQ+ society.
Ema – 17 April 2020
Visionary director Pablo Larraín (Jackie, Neruda) returns with the dazzling Ema, an intoxicating comment on sex, power and chaos in modern-day Chile. Ema (Di Girolamo) is a young bisexual dancer in a reggaeton troupe: effortlessly magnetic and dangerously impulsive. Her toxic marriage to older choreographer Gastón (Gael García Bernal) is beyond repair, following a rash decision to hand their adopted child Polo back into the hands of the state. Racked with regret, she sets out on a mission to get her son back, not caring who she'll need to fight, seduce or destroy to make it happen.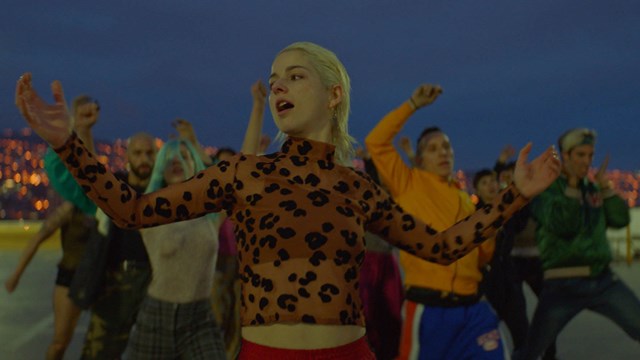 Moffie – 24 April 2020
South Africa's minority government are embroiled in conflict at the Angolian border and all white young men over 16 must serve two years of compulsory military service to defend the Apartheid regime and its culture of toxic racist machismo. Just when fear pushes Nicholas to accept unspeakable horrors in the hopes of staying invisible, a tender relationship with another recruit becomes as dangerous for them both as any enemy fire.
Everybody's Talking About Jamie – 21 October 2020
TheLlong-awaited film adaptation of the stage musical that started here in Sheffield. Shot around our beautiful city and it's surrounding areas, and starring Max Harwood alongside Richard E Grant and Sharon Horgan, we can't wait for this all-singing, all-dancing delight to hit our screens!
Jamie is 16 and he doesn't quite fit in. He is terrified about the future but supported by his loving mum and surrounded by his friends, Jamie overcomes prejudice, beats the bullies and steps out of the darkness, into the spotlight.