Parasite: Making History
Posted 9 February 2020
Since winning the coveted Palme d'Or at the Cannes Film Festival in May last year, it's been all eyes on Bong Joon-Ho's thrilling tragicomic satire Parasite. It was the first ever South Korean film to take home the top prize at the prestigious festival - much deserved, if slightly overdue, recognition for a country that produces some of the most exciting cinema in the world.
When the film was released in the US in October it became the highest grossing Palme d'Or winner not in the English language and the fourth highest grossing winner in history (it sat just behind Michael Moore's Fahrenheit 9/11, Quentin Tarantino's Pulp Fiction and Roman Polanski's The Pianist).
Last Sunday, Parasite made history again, taking home four major awards at the Oscars; Best International Feature, Best Original Screenplay, Best Director and - most significantly - the coveted Best Picture. It's now cemented its place in the history books as the first film not in the English language to ever take home the Best Picture prize.
For people that have seen the film already, its win should come as no surprise. Watching Parasite is truly a whirlwind, like-no-other, cinematic experience. It's overflowing with the kind of delicious twists and turns that make cinema-going unforgettable. It's also really, genuinely laugh-out-loud funny. A genre-bending masterpiece of filmmaking. Though deserved, its win still came as a shock to us here at the Showroom. As self-proclaimed champions of world cinema, it's rare that we see the films that we love, and that we enthusiastically share with Sheffield audiences, getting this kind of international recognition.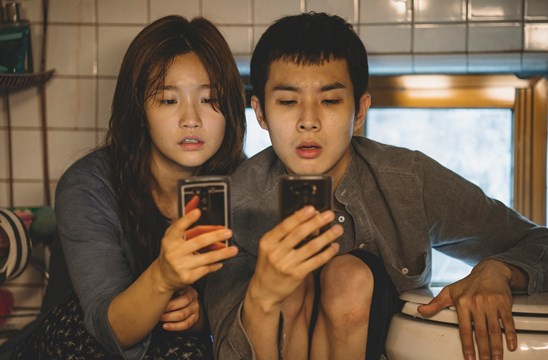 As a 2017 report from the BFI made clear, recent years have been tough on subtitled films. But Parasite looks on track to become one of the highest grossing foreign language releases in UK history, and we're hopeful that this marks a genuine turning point. It's been so exciting to see people from all walks of life coming in in droves to support this incredible film, and we really hope that it paves the way for world cinema more broadly, pulling it out from the underground and pushing it towards the mainstream.
As Parasite's director Bong Joon-Ho brilliantly put it in his acceptance speech at the Golden Globes, "Once you overcome the 1-inch-tall barrier of subtitles, you'll be introduced to so many more amazing films."
Parasite well and truly smashed through that barrier on Sunday. It continues to screen at Showroom Cinema this week (and hopefully for many more weeks to come).