Rafiki: Exploring Contemporary African Art & Film
Last week we hosted Wanuri Kahiu in an insightful and inspiring Q&A to celebrate the release of her latest film Rafiki. The film made history as the first Kenyan film to compete in the prestigious Cannes film festival but was also banned in its home country for its bold depictions of hopeful, happy LGBT people (read more on that here).
During the Q&A Wanuri spoke passionately about some of the artists that have influenced her life and her work, and how difficult it can be in the UK to find these artists. African films also rarely get distributed here, and so it's all the more important to buy the ticket and support the work when we can (check listings for Rafiki here).To help remedy that a little, we thought we'd document some of the inspirational work she discussed so that you can delve a little deeper behind the scenes of Rafiki, and start to scratch the surface on contemporary African art and film.
African Artists
Wanuri Kahiu is the co-founder of a media company turned new genre, Afrobubblegum. Afrobubblegum curates, creates and commissions 'fun, fierce and frivolous' African art. It's art that isn't inherently political, but showcases the joys of Africa. Kahiu recently gave a TED talk naming some of the wonderful Afrobubblegum artists she loves – you can watch it here.
A great lover of art, Kahiu says there are three major artists that are referenced in the production design of Rafiki:
Mickalene Thomas
Thomas is an artist currently based in Brooklyn NY. Her bold, colourful catalogue features paintings, collages and photography that present a contemporary vision of female sexuality, beauty, and power and examine how identity, gender, and sense-of-self are informed by the ways women (and "feminine" spaces) are represented in art and popular culture. Kahiu channelled Thomas' work into the design of Kena's mother's home, with bright colours and clashing prints that would make the space feel claustrophobic.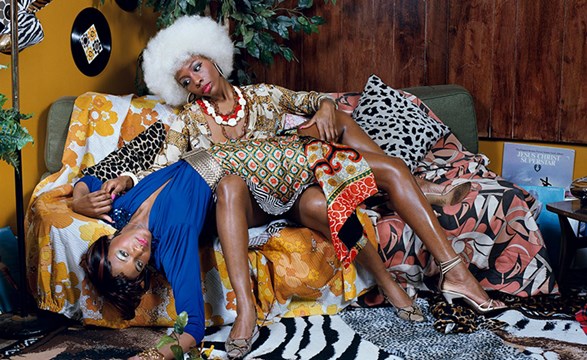 Wangechi Mutu
Mutu is a prominent international contemporary visual artist known primarily for her painting, sculpture, film and performance work. Like Kahiu, Mutu is from Kenya, though she has lived and established her career in New York for over twenty years. Mutu gave Wanuri Kahiu a copy of one of her treasured paintings, and it can be seen in Ziki's bedroom in the film. Kahiu said the rest of Ziki's room is designed around this painting.
Zanele Muholi
Muholi is a prominent South African LGBT photographer and visual activist. Her work explores on race, gender and sexuality with a particular focus on black lesbian, gay, transgender, and intersex people.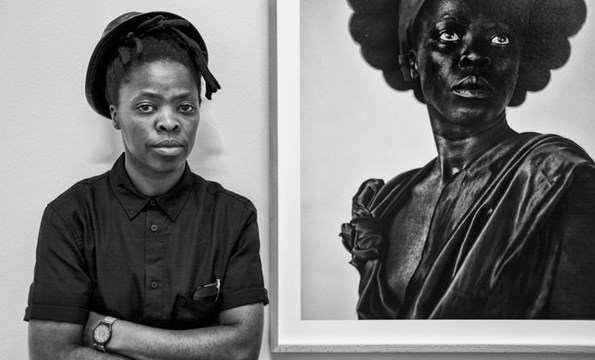 African Film
We've already mentioned the disappointing lack of African film in the UK, despite the wealth of wonders the continent has to offer. In the last couple of years (I've worked in the programming team for 2 years now) there have been 4 films we've been able to screen here, including Rafiki. All of them are vastly different, offering different perspectives and distinct approaches to filmmaking:
The Wound (Inexba)
The Wound, released in the UK in 2018 is tight South African drama that explores the intersections of tradition, masculinity and sexuality. It follows a group of men who travel into the Eastern Cape mountains to undergo an antient ritual that will see them transition from boys to men. Like Rafiki, The Wound is a tender and sensitive depiction of LGBT an relationship, and it too was banned from mainstream cinema in its home country, however not for the same reasons. The Wound was deeply controversial in South Africa, because the Xhosa tradition depicted in the film is a cultural secret, and all mention of it is strictly forbidden. The film received an X18 rating in South Africa, allowing it only to be screening in 'adult entertainment' premises. The Wound is currently available to rent or buy on Amazon Prime Video. Watch the trailer here.
Felicite
Released in late 2017, this film from the Democratic Republic of the Congo follows a singer's desperate struggle to raise money to help her son after he has an accident. Largely improvised, Felicite is shot with gripping, documentary-like realism and you rumble through the electrifying streets alongside its protagonist. It won the Silver Bear in Berlinale Film Festival and is currently available to watch online on MUBI rentals. Watch the trailer here.
I Am Not A Witch
This film is a British-Zambian co-production, it won it's director Rungano Nyoni the BAFTA for Outstanding British Debut in 2018 after it's UK release in late 2017. I Am Not A Witch is a bright, energetic film about an 8 year old girl named Shula, who is accused of witchcraft. It explores the misogyny and prejudice seeded in accusations of witchcraft using an incredible deadpan humour and visual flair. It is currently available to rent or buy from Amazon Prime Video. Watch the trailer here.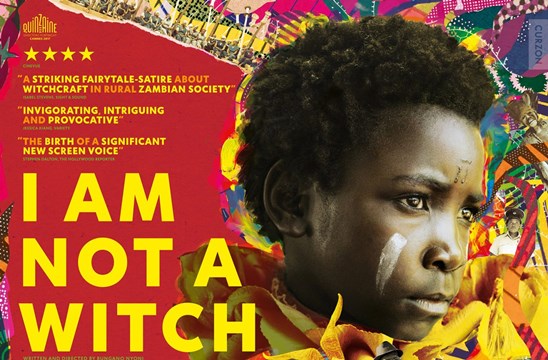 What's coming up?
Wanuri Kahiu gave us a stellar film recommendation during the Q&A, a new Sudanese feature that screened at Toronto International Film Festival the same time as Rafiki. AKasha is a comedy-drama about a love triangle between a woman, a man, and his AK47. Unfortunately, this title is yet to secure a UK distribution deal and though this is disappointing, it isn't surprising as there aren't many UK distributors willing to 'take risks' on African films. Aya Distribution – the company that brought Rafiki to the UK - specialises in helping African films find audiences here, but unfortunately they can't pick up everything! There have been a number of fantastic films that we have seem come and go at international film festivals – like the incredible 2017 South African western Five Fingers from Marseilles – that never make it to the UK. AKasha trailer, Five Fingers from Marseilles trailer.
Whist in Sheffield, Kahiu gave a number of other interviews with some other press outlets. Read more here: