The F-Rating will be applied to all films in our programme which are directed by women and/or written by women and/or have significant women on screen
F-Rated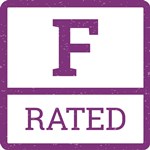 Either directed by a woman and/or written by a woman and/or starring significant women
Triple F-Rated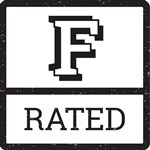 Directed by a woman AND written by a woman AND starring significant women
Diversity statistics across the industry are extremely poor: 13.6% of all films made in the UK over the past 10 years have had a female screenwriter attached, and only 11% employed a female director.
Despite recent publicity suggesting equality in cinema is on the rise, statistics show very little growth or improvement, both in the UK & oversees. The F-Rating is a response to this, designed to support and promote women in film, both on and off-screen
About The F-Rating
Developed by Bath Film Festival and now expanding across the UK, the F-Rating is a new film rating which highlight films made by and featuring women.
Any film that answers yes to one of these questions is awarded the F-Rating stamp of approval.
Does it have a female director?
Is it written by a woman?
Are there significant female characters on screen in their own right?
The aims of the F-Rating are:
To champion women in film and highlight the fantastic work they are doing.
To encourage conversation around who tells the stories we see on screen – and whether that matters.
To act like a Fairtrade stamp, giving the audience an opportunity to #VoteWithYourSeat, and support women in film.
Find out more at f-rated.org, on Facebook or @F_Rating on Twitter