Guest Blog: Penny Slinger - Out of the Shadows
Posted 15 August 2019
Penny Slinger: Out of the Shadows
Penny Slinger's artwork is a captivating exploration of feminine desire, bodies and the unconscious. Different shades of esoteric imaginings meet sexual liberation and elements of uncanny repulsion. In her Bride's Cake series, for example, made in 1973, Penny Slinger appears in a two-tier white wedding cake construction, designed and made to wear and sit in. At the front, by her groin, is a removable slice so that Slinger, wearing the costume with nothing underneath, could mimic the ceremonial cutting of the cake – a commentary on how women are presented as the object for consumption in order to inaugurate the institution of marriage.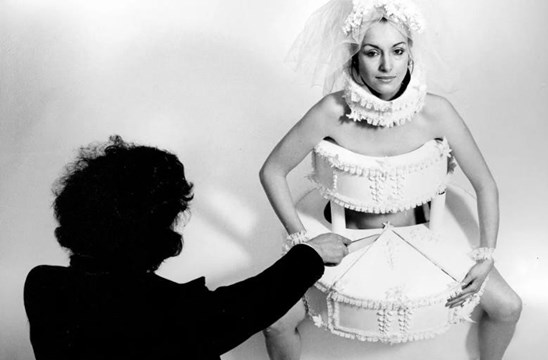 Her parody of the wedding event, complete with full genital reveal, relates how Slinger attended to women's perspectives and was interested in the power of images and sexuality.
Richard Kovitch's documentary, Penny Slinger: Out of the Shadows, conveys the deep eroticism and strangeness of Penny Slinger's artworks in its full glory.
Slinger is having a moment, whether this is her recent collaboration with Dior for their Autumn/Winter 2019 couture show, or her solo show focusing on her tantric art at the commercial London gallery Richard Saltoun.
Richard Kovitch's documentary is a foundational part of Slinger's 'moment'. The documentary draws on archive footage, clips from Slinger's films and long closeups on her collage and photography. These clips and images are built around Slinger's own narration of her life, accompanied by talking-head interviews from her collaborators (Peter Whitehead and Susanka Fraey) as well as other artists and curators including Antony Penrose, son of the artist Lee Miller and Roland Penrose who was a significant patron of Slinger early in her career.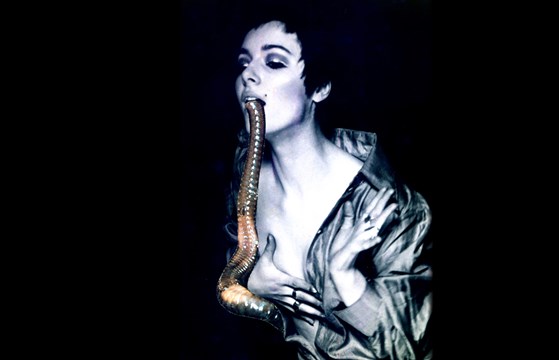 Out of the Shadows is the perfect subtitle for a documentary on Penny Slinger. The documentary hangs off the fact that Slinger 'disappeared' from the art world for two decades and examines why her work was able to 'slip' out of cultural memory. While she did actually exile herself from the art world for several years, it is clear that, like many artists who are women, Slinger has not had the attention she deserves.
As with many narratives of rediscovery, the story goes that the art world was simply not ready for her kind of art making at the time. It was too Avant Garde. Now, however, things have changed. Kovitch's documentary, however, paints this as a more complex picture.While the kind of mythologizing of the rediscovered artist is a well-worn narrative for underappreciated women artists, for Slinger it actually makes a lot of sense. Slinger's work was extraordinary in the moment of its making but did not get much traction outside her circle of her peers. Today it clearly strikes a nerve and speak to desires, debates and ways of seeing that exist today.
Dr Elspeth Mitchell
Research Associate in Practices and Theories of Feminism and Art, Loughborough University
Doc/Nights is the best new documentary cinema with special introductions, Q&As and panel discussions. Join us for a screening of Penny Slinger: Out of the Shadows followed by a Q&A with the film's director, Richard Kovitch on Monday 2nd September, 18:00. Book tickets here - /penny-slinger