Be Seeing You + Class of Struggle

18

The screening will be introduced by Dr Julia Dobson, Reader in French Film and Performance, University of Sheffield
Art Sheffield proudly partners with Sheffield Doc/Fest and Showroom Cinema to present a double bill of films by Chris Marker and the notorious, Medvedkin Group. The socially radical and cinematically imaginative Be Seeing You and Class of Struggle intimately bring you into the torn relationship between higher management and the agitated factory workers in 1960s France. This is socialist cinema at its best.

be seeing you
From 1967 to 1976 Chris Marker was a member of SLON (the "Company for the Launching of New Works"). One of several groups that emerged in those years in which filmmakers, militants, and others came together on a cooperative, parallel basis, SLON was based on the idea that cinema should not be thought of solely in terms of commerce.
1967 was also the year an important strike broke out at Rhodiaceta, a textile plant owned by the Rhone-Poulenc trust in the city of Besançon, France. The strike was unusual in character because the workers refused to disassociate the industrial conflict from a social and cultural agenda. The workers' demands concerned not only salary and job security, but also the very lifestyle imposed on them by society.
So it was only natural that Chris Marker, along with other technicians and members of SLON, would visit Besançon to document the strike, and the lives and attitudes of the workers.
The film's most important moments are composed of conversations with workers and their wives. They believe the working class is increasingly at the mercy of a system that gives them no power, a system that would like them to remain powerless. And so it was that their local demands grew into questions about the larger political system.
The strikers eventually returned to work with few gains, but had developed a sense of their power, which helped lay the groundwork for May '68, when France was rocked by revolutionary protests.
Completed and first shown that year, A bientôt j'espère (Be Seeing You), is a document of the year, of a moment really, when everything was called into question.

class of struggle
In 1967, Chris Marker and Mario Marret (under the aegis of SLON) produced A bientôt j'espère, which documented a strike and factory occupation—the first in France since 1936—by textile workers at the Rhodiaceta textile plant in Besançon, the goals of which prefigured many of the demands that would come to define May 1968.
Many of the Rhodiaceta workers who had collaborated with Marker and Marret on the film were unhappy with the final production. In response, Marker and other SLON filmmakers reorganized their efforts to begin training workers to collaboratively produce their own films under the name "The Medvedkin Group", after the Russian filmmaker Marker would later memorialize in The Last Bolshevik.
Class of Struggle is their first production. Picking up in Besançon a year after the events depicted in À bientôt, j'espère, the film focuses on agitation by workers at the Yema Watch Factory, particularly the efforts of one recently radicalized worker, Suzanne Zedet.
Zedet describes her political activity, and the punishments issued in response by the factory management. She also articulates the radical scope of her and her fellow workers' demands, which go beyond higher wages and better benefits, and reflect a desire to reorganize the country's economy and social order.
One of those demands is access to culture and to the tools of cultural production. The film itself is one attempt to meet this demand, and we see the workers editing and developing film under a banner that reads: "Cinema is not magic; it is a technique and a science, a technique born from science and put in service of a will: the will of workers to liberate themselves."
One of the most radical films produced in an era defined by radicalism, Class of Struggle reflects this will to liberation.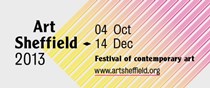 Art Sheffield 2013 is a citywide festival that brings together new commissions, exhibitions and performances, by international, UK and Sheffield-based artists at locations across the city. A programme of events, talks, film screenings and discussions runs throughout the festival.
Director

Chris Marker

,

Medvedkin Group
Year

1968 / 1969