In The Turn & Panel Discussion

18
A documentary about a 10-year-old transgender girl who finds acceptance and empowerment in the company of a queer roller derby collective. Featuring guest speakers from Sheffield Steel Roller Girls.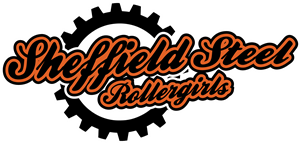 The Panel
Claire Brand
I'm one of the pre-minimum skills skaters, learning how to stay upright and still practicing falling over correctly. I'm very new to derby, having joined SSRG this very autumn; I've not even got rid of the box for my gear yet but my knee pads do now at least have some decent scuff marks on them.

For the best part of the last 6-7 years I was doing a degree that didn't allow me regular time for sport; and I'm acutely aware of the nosedive my fitness had been doing in that time. Since coming out as transgender 2 years ago, I've been looking for ways to get back into exercise that I'd feel comfortable with both socially and physically.
Being a fairly major fan of Ellen Page I feel it would be disingenuous to claim Whip It had nothing to do with my considering roller derby. I did a bit of looking around and what really helped convince me was both speaking to SSRG about their "trans policy" and seeing the "Trans Girls Can" banner on their site. To find somewhere that would not just tolerate trans women but actively encourage them was a novel experience for me.
So far SSRG has been everything I hoped for and more, I've been overwhelmed by how welcoming and accepting everyone has been. I've made friends, shared in triumphs and failures alike and had a blast doing it. I can only hope the future holds more of the same for me!
Bob
I have been involved in roller derby for 5 years. Beginning as a skater with SSRG, I am now, too, a member of Team Metal Legs, a challenge team consisting of players from around the country who have recovered from roller derby related injuries. I also spent some time working with the Sheffield men's team (the Inhuman League) and for the last couple of years, I have worked as a referee (I am currently SSRG's head referee).
I originally joined because I wanted to be more active, and roller derby looked like more fun than joining a gym, but over the years, I have developed a desire to do much more than just play.
I am a 2nd year PhD student, studying men's roller derby. Through this research, I have become acutely aware of a number of issues within the sport, and some of the unique (or a least, rare) opportunities roller derby offers for gender inclusivity, in particular.
Director

Erica Tremblay
Country

USA
Year

2015