Showroom Cinema awarded second Culture Recovery Fund grant
Published on Friday 2 April 2021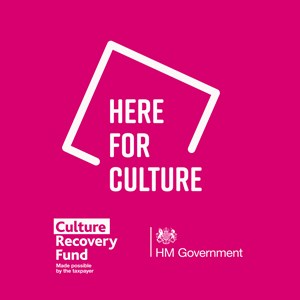 Showroom Cinema has been awarded £174,916 in the second round of the Government's Culture Recovery Fund to help the culture and heritage sector re-open and recover.
The funding was reserved in the first round of the £1.57 billion Culture Recovery Fund to allow the Government to respond to the changing public health picture. Showroom Cinema's additional grant is part of a £6.5 million pot awarded today by the British Film Institute to 95 independent cinemas across the UK.
As a registered charity and Sheffield's only independently programmed cinema, Showroom Cinema has played an important role in championing diverse film from across the world for over 25 years and is a cultural hub for the city's community.
The funding provides Showroom Cinema with the resources to survive the next three months and will act as a platform to help re-open its doors when it is safe to do so. A small portion of the grant will also help re-instate reserves the cinema has used for survival over the last year due to closure.
The independent four-screen cinema has now been closed for over a year due to the pandemic, managing to open its doors for just six weeks last autumn. The grant will allow the cinema time to welcome back its audiences, develop new programmes and re-start its community outreach work.
Ian Wild, CEO of Showroom Workstation, said: "We are incredibly grateful for the continued support our audience has provided us over the last year. It hasn't been easy, and the financial road ahead is still going to be a challenge. We will need to operate full social distancing to safely re-open, meaning a 75% reduction to our cinema's capacity.
However, we can now see light at the end of the tunnel and are delighted to have received a second grant from the Culture Recovery Fund. The funding will allow us to safeguard jobs and continue to inspire our local community, develop young talent, and champion independent and foreign language films in the heart of Sheffield city centre.
Brendan Moffett, Chair of Board of Trustees at Showroom Workstation, said: "We are delighted to receive a second grant from the Culture Recovery Fund and would like to thank the British Film Institute and department for Digital, Culture, Media and Sport for their help over the last year. The funding, alongside continued support from our loyal audience, means we are still here today and can carefully navigate the next three months.
"It's hugely important for us to offer a diverse range of independent cinema to film fans across South Yorkshire and continue our role in Sheffield's inspiring culture scene. With greater confidence, we can now look forward to safely re-opening our doors and welcoming back our audiences."
Find out more about supporting Showroom Cinema here.