Venue hire
Showroom Workstation offers a flexible and unique range of spaces for 2- 282 people, located less than 5 minutes from Sheffield Train Station.


Perfectly situated for easy access into the city and ideal for travelling friends, guests or delegates. We offer full disabled access throughout the building and all spaces are covered by high-speed WiFi, and our dedicated events team, technical team and fabulous in-house catering will ensure that your event goes according to plan.
Venue layout and capacity
Capacity for social distancing: no distancing / 1m distancing / 2m distancing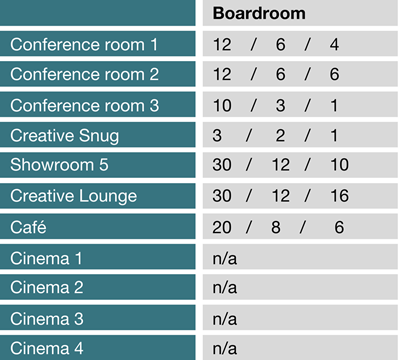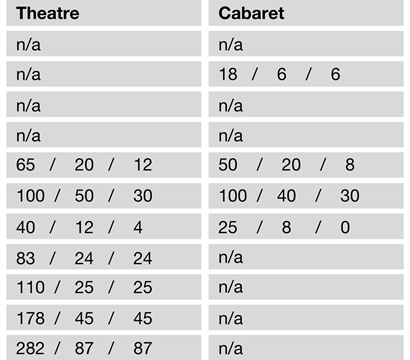 Pre-booked catering options are available - download here.
For further details please contact our Events Team, give us a call on 0114 221 0239.
Hiring Cinema Screens in Sheffield - corporate
Looking for a theatrical setting for your event, conference or product launch? From small meetings to international conferences, our venue has capacity for up to 282 delegates. With its central location, less than five minutes from the train station, Showroom Cinema could be your perfect venue to wow your clients, colleagues and employees.
We have four high quality cinema screens with tiered seating. All screens can be linked up with a variety of devices as well as external venues/presenters via broadband and satellite.
Each cinema is equipped with an infra-red sound systems for the hearing impaired and offers designated wheelchair spaces, ensuring accessibility to all. Our cinema screens are often used as part of large conferences and festivals, or to simply as a private hire to watch a film of your choice.
Prices and Further Information
Timescales: Bookings must be made with a minimum of two months' notice to ensure cinema space is secured.
Capacity: Up to 282
Tech: DCP, Blu-ray, DVD, live streaming, laptop connectivity
Discounted accommodation is available at Leopold Hotel and Cutlers Hotel, codes available upon booking.
If you have any questions or would like more information on any of our above packages, please contact our Conferencing and Events team