What's On May 2019
More films and times are added each Monday for the following Friday to Thursday - please check back then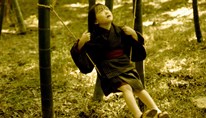 Showing as part of Of Flesh and Blood: The Films of Hirokazu Kore-eda
Considered by many critics to be Kore-eda's masterpiece, After Life takes place in a waystation for the recently deceased, where the dead are invited to choose a single memory to spend eternity with.
1 showings on Sun 19 May

Showing as part of Of Flesh and Blood: The Films of Hirokazu Kore-eda
When Osamu and his son happen upon a little girl, alone in the cold, they take her back to their ramshackle home. Although the family are themselves relying on petty theft to make ends meet, they welcome this forgotten child as one of their own.
2 upcoming showings between Sat 25 & Wed 29 May